Contrary to popular belief, almost every penis is bent naturally to an extent.  Or to put it another way, it's extremely rare to come across a cock that doesn't have a slight natural bend.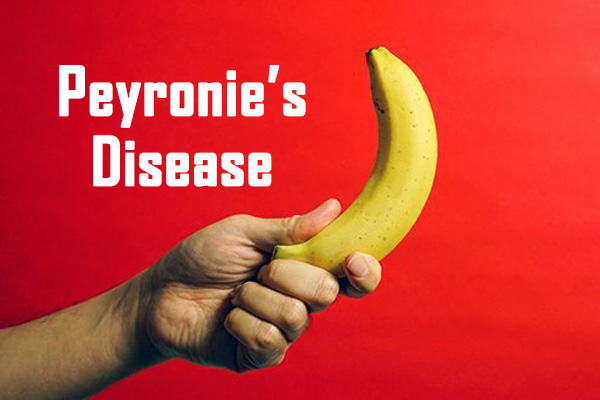 Perfectly straight penises are surprisingly rare – something to consider before setting about trying to fix yours.
However, when a curved penis becomes problematic, steps can and should be taken to rectify the issue.  There are various options available to make your penis straight these days, without necessarily going under the knife. Though in terms of effectiveness, results vary significantly from one method and procedure to the next.
Why is My Penis Curved?
Truth is, there are several different reasons why your penis may be curved in one direction or another. While some men are born with slightly curved or crooked penises, others go on to develop a curvature during the course of their life.
Where penile curvature occurs at a seemingly random time in life and perhaps with a relatively rapid onset, it may indicate that the person in question has Peyronie's Disease.
What is Peyronie's Disease?
In the simplest terms, Peyronie's Disease is a condition that manifests visibly in the form of a crooked penis.  The condition itself is caused by the build-up of scar tissue – aka plaque – inside the penis, which when erect causes the penis to appear bent.
Though milder cases of Peyronie's Disease allow those affected to have sex without issue, more severe cases can cause pain, discomfort, and even erectile dysfunction.  Depending on the severity of the case, your physician may recommend medication, exercises, surgical intervention, or a combined treatment program.
What are the Causes of Peyronie's Disease?
Experts are still unsure as to why Peyronie's Disease occurs in the first place. It's suspected that the build-up of scar tissue responsible for the condition could be triggered through a traumatic event or injury, though Peyronie's Disease often affects men with no history of injury whatsoever.
Genetics may also play a role in determining which men are most likely to develop the condition – as could the use of certain prescription drugs.  In both instances, however, there is no formal evidence to support either theory.
Who Gets Peyronie's Disease?
Most cases of Peyronie's Disease are diagnosed in middle-aged men in a relatively good state of health.  Statistics suggest that the risk of developing Peyronie's Disease increases with age, though it is perfectly possible to develop the condition at any time during life.
In addition, age alone is not considered a direct cause or even a major risk factor for Peyronie's Disease.
Symptoms of Peyronie's Disease
The signs and symptoms of Peyronie's Disease can gradually build over the course of months, years or even decades.  However, it's also possible for Peyronie's Disease to appear practically overnight.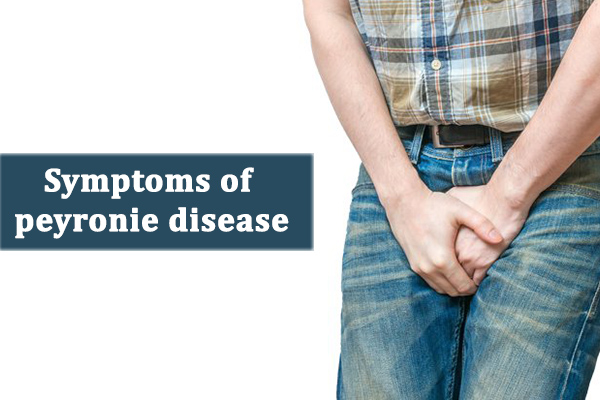 It's almost impossible to detect the condition when the penis is flaccid, therefore must be identified during an erection.  Some of the most common signs and symptoms of Peyronie's Disease being as follows:
Scar tissue: The scar tissue that develops below the surface of the penis can sometimes be felt from the outside – lumps and bumps under the surface of the skin.
Curvature of the penis: The penis will usually (though not always) bend significantly to one side or upwards.
Erection problems: Peyronie's disease can make it difficult to achieve and maintain an erection, or possibly make erections uncomfortable or painful.
Shortening of the penis: In some instances, the penis becomes noticeably shorter when a case of Peyronie's Disease manifests.
Pain: You may experience penile pain, with or without an erection.
Other deformities: There are various other deformities to the penis that can indicate a case of Peyronie's Disease – anything that seems out of the ordinary should be brought to the attention of an appropriate medical professional.
Most cases of Peyronie's Disease worsen over the course of several weeks or months, though will often stabilize within the first year.  Nevertheless, it is not a condition that can or will simply 'go away' on its own – steps must be taken to correct the problem at the earliest possible juncture.
Peyronie's Disease vs Normal Curvature (Congenital Curvature)
It's important to highlight at this point that Peyronie's Disease is not the same as congenital curvature.  The difference being that while a medical condition causes Peyronie's Disease to occur at some point during life, congenital curvature is something the individual in question has had since birth.
Nevertheless, severe congenital curvature is extremely rare, affecting no more than around 1% of men. Though again, it's perfectly normal for a healthy penis to have a very slight bend to its shape.
Unsure as to whether the curve in your penis is normal, new or needs attention? The best thing to do is book a consultation with an experienced physician. Here's a brief overview of how Peyronie's Disease is diagnosed:
Physical exam: A detailed examination of your penis will take place. During which, measurements will be taken and the doctor will look for signs of scar tissue.
Photographs:  It is also likely that your doctor will ask you to bring photographs of your erect penis. This is in order to provide them with an indication of the extent of its curve.
Scans: Ultrasounds or other scans may be carried out to examine the tissues beneath the surface of the penis. During which, any abnormalities will be detected.
Consultations and examinations like these can be understandably uncomfortable. But it's worth remembering that your physician will have handled hundreds of cases like yours before.  To them, it's just another day at the office!
Types of Curvatures
There are literally thousands of different types of penis shapes and curvatures. One of the things that makes the male member so fascinating.  Contrary to popular belief, there's also no such thing as a 'right' or 'wrong' shape for the curved penis.  Just as long as it does its job properly and is in a good state of health, it really doesn't matter which shape or size category it falls into.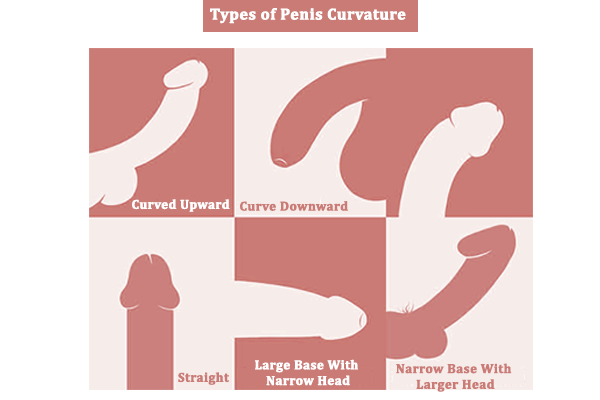 In any case, these are the most common categories and classifications of curvatures:
Upward curve
Downward curve
Curve to the left
Curve to the right
C-shaped
S-shaped
All self-explanatory by way of name alone.  And in all instances, it's the extent of the curvature or abnormality that will determine the seriousness of the condition, along with what treatment (if any) is necessary.
How To Straighten A Curved Penis?
As a general rule of thumb, penile curvature of 30° or less that isn't painful, doesn't make sex difficult and isn't getting worse does not warrant medical attention. Though if you have any questions or concerns whatsoever regarding the shape of your penis or any changes you've noted to its erect shape, you should consult with a physician at the earliest possible stage.
At which point, they may recommend one or more potential treatment pathways – some surgical, some handled at home. These being the most common treatments recommended for the correction of Peyronie's Disease:
Lithotripsy
One of the more shocking (literally) treatment options available, which doesn't have a particularly high success rate.
This is where attempts are made to correct the issue by targeting the scar tissue with shock waves, though the majority of patients who undergo Lithotripsy treatment report negligible results at best.
Exercise
The effectiveness of penis straightening and strengthening exercises is open to debate.  However, the fact that they are predominantly safe, simple to perform and (in some instances) somewhat satisfying makes them a popular choice.
There are several different types of penis straightening exercises to try out – traditional penis stretching, jelqing massage, and so on. Though in all instances, it's important to proceed only upon the express recommendation of a doctor.  The reason being that when performed incorrectly or with too much 'enthusiasm,' some straightening exercises can cause serious damage to the penis.
Pills
A course of medication may also be prescribed, depending on the severity of the condition and the patient's personal preferences.  Though the overwhelming majority of conventional oral medications have no impact whatsoever on Peyronie's Disease.
As it stands, there's only one FDA-approved drug on the market for treating Peyronie's Disease – clostridium hystolyticum (Xiaflex).  The difference being that Xiaflex has to be injected directly into the penis, in order to break down and subsequently eliminate the problematic tissues.
Oral verapamil and interferon injections may also be recommended, but in both instances require long courses of treatment for negligible results, which are almost always temporary in nature.
Surgery
Surgery is considered the 'nuclear' option by most, as while surgical intervention can effectively address Peyronie's Disease, it's not without its risks or negative side effects.  Surgical options available for correcting Peyronie's Disease extend to three different types of procedures:
Shortening the Unaffected Side
Lengthening the Scar Tissue Side
Penile Implants
The obvious implications of shortening the penis make the first of these options undesirable for most, whereas lengthening the penis to correct issues with curvature significantly increases the risk of erectile dysfunction.
Penis Traction Devices
This is one of the only options to have gained the approval of male sexual health experts.  Today, most cases of Peyronie's Disease can be effectively and permanently treated. Maybe reversed entirely, using a simple yet effective penis traction device.  These are basically the same devices used by millions to increase the size of their penis. But they can also be used to get rid of curvature at home.
One example of such a device is SizeGenetics – an FDA-approved, medical traction device. One that's been clinically proven to result in noticeable length gains and girth gains over a six-month period. SizeGenetics is a 100% self-administered treatment program with an unprecedented 180-day satisfaction guarantee. A device now available as part of a specialist Peyronie's Disease correction kit – check out this independent SizeGenetics review to learn more.
In many instances, penis extenders like these need to be worn for short periods of time. Perhaps no longer than around 30 minutes per day to achieve the desired effect. Though for maximum benefits, they may be worn for as long as eight hours per day.
As with each of the options outlined above, it's important to consult with a qualified professional. Seek advice before beginning a course of treatment with a penis traction device.
Conclusion
Living with a curved penis isn't fun, but it's also something you don't have to put up with.  Rather than buying into all the bizarre hocus pocus, solving the problem of how to straighten a bent penis is all about going with the science.
Not to mention the recommendations of your physician, who you should consult with before deciding which way to go. If you'd prefer a home-based course of treatment to surgical intervention or prescription drugs, the SizeGenetics is just about the best device in its bracket you can pick up right now.
If you need more information on penis enlargement, kindly visit our Guide page.