If you've spent any time wishing you had a bigger dick, welcome to the club! The funny thing is, most men who aren't happy with the size of their penis think they're alone.  Or at least, in something of a minority.  In reality, it's the exact opposite. The overwhelming majority of men would do just about anything for a bigger penis.
The question being – how to make your dick bigger and harder? Ideally in a way that's fast, safe and guarantees noticeable results?
Here's a fact to chew on before we get started. A recent study found that approximately 45% of men are dissatisfied with the size of their penis. That's quite a lot of men, to say the least. Though what's interesting is that when polled as part of the same study, 85% of women said they were perfectly satisfied with the size of their partner's dick.
And just in case you wondered, the average penis is 5.16 inches erect. And approximately 90% of guys have a penis between 4 and 6 inches long.
Still, it's all largely inconsequential. I you yourself aren't happy with the size of your penis, that's really all that matters. If you think your dick is small, it can take a real toll on your confidence and.  The good news being that while the vast majority of penis enlargement methods are basically BS, there are at least some penis stretching activities that can work.
But which of the options available work best?  More importantly, is it better to work on improving penis size naturally? Or should you go 'nuclear' and opt for surgery.
Option 1: Penis Enlargement Surgery
Let's start with that particular option. Penis enlargement surgery may seem like something of a no-brainer. In reality, it's not actually recommended by the vast majority of experts.  Even if surgery does make your dick grow bigger to a degree, the side effects and potential complications can be severe to say the least.
For example, there's a procedure available to increase the length of the penis, which involves cutting the suspensory ligament to enable the penis to be stretched.  The result of which is indeed a longer penis, but at the expense of an erection that will sag lower for the rest of your life.  A heavy price to pay for a little extra length.
If it's additional girth you're after, there's a separate procedure available that involves layering sterile organic tissue under the skin of the penis to increase its width and circumference.  The problem being that not only is the procedure exceptionally expensive and seriously painful, it also brings risks of complications like skin necrosis and infection into the mix.  Again, a hefty price to pay for negligible girth gains.
Option 2: Penis Enlargement Injections
This is a more popular option than conventional surgery, involving the use of cosmetic fillers to give the penis a larger and more 'plumped up' appearance.  These are the same fillers used to temporarily enhance other parts of the body – most often cheeks, lips, and chins. It's a relatively simple procedure; wherein a special solution is injected under the surface of the skin to create the desired 'enlarging' effect.
Unfortunately, penis enlargement injections are capable of producing negligible results at best.  Even in rare instances where the result is reasonable enough, it will always be temporary.  Worse still, fillers injected into the more complicated parts of the body like the penis can result in a lumpy, bumpy, blotchy and uneven appearance that's anything but attractive.  This is why the vast majority of physicians who specialise in cosmetic fillers don't actually offer penis enlargement injections themselves.
It's not considered a particularly responsible procedure – nor does it come recommended by most male health experts, if any.
Option 3: Penis Exercises
The web is bursting at the seams with weird and wonderful tutorials on how to more or less manhandle your manhood into the required shape and size.  Unfortunately, the overwhelming majority of these exercises simply do not work.  And with those that (supposedly) can help, performing the exercise incorrectly or for too long can result in permanent injury.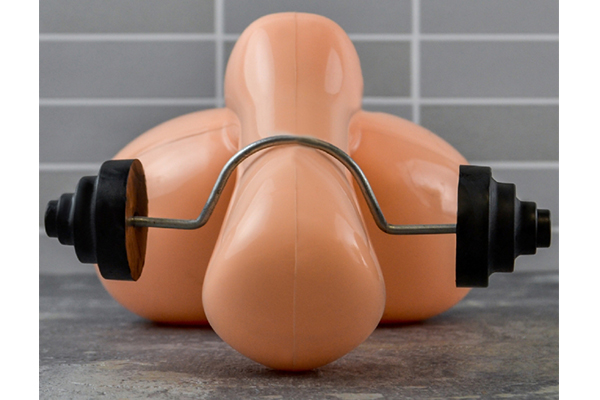 Penis exercises for improved size and girth predominantly refer to something known as 'jelqing'.  This is basically a method of stretching and massaging the flaccid penis in a way that's supposed to eventually boost its size.  In reality, male health experts worldwide report routinely being contacted by individuals who've permanently and painfully damaged their junk with these exercises.
Hence, unless you want to run the risk of tearing and overstretching the arteries and veins your dick needs to do its job, steer clear of unsolicited penis exercises at all costs.
Option 4:  Penis Pumps
These things have been used for generations, and the jury is still out as to their effectiveness.  Which says a lot, given how much 'research' has been carried out on them by millions of men over the years.  But what we do know for sure is that when penis pumps do deliver positive results, they're typically too minor to be considered of any real consequence.
For example, a study published a few years ago examined the effects of penis pumps on 37 different men with very different physiological compositions.  It was determined that, on average, those who showed any signs of improvement experienced no more than 0.3cm growth over the course of six months. That's 3mm in six months – hardly worth bothering with.
More importantly, the treatment was found to be 90% ineffective in total.  Penis pumps are said to have at least some therapeutic value for the treatment of erectile dysfunction, but even in this department, their effectiveness and safety remains a subject of heavy debate.
Option 5: Losing Weight
Funnily enough, losing weight is actually one of the only tried, tested and trusted ways of improving penis size naturally.  There are two reasons for this, though it's worth bearing in mind that neither of them will have you hung like a porn star a few weeks down the line!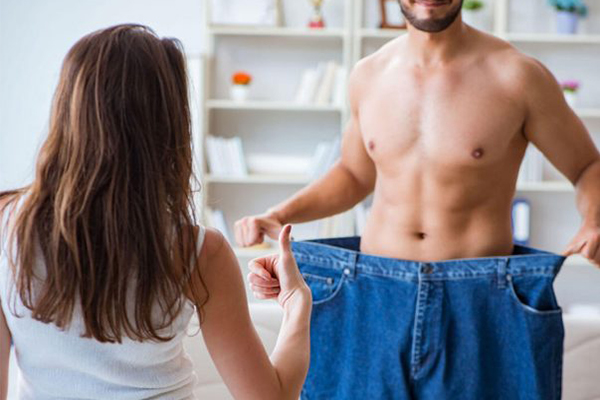 First of all, losing weight (and a fair amount of it) creates what's technically the illusion of a larger penis. By eliminating a bunch of fat reserves around your groin, your penis looks significantly bigger – despite having not actually grown in size.  Nevertheless, there's a decent chance you'll take more pride in your appearance than you did before.
Secondly, losing weight is associated with improved health and wellbeing in general.  Improved health means more efficient circulation and blood flow, which has the potential to contribute to penile health and strength.  The long and short of it is that the healthier the blood flow to the penis, the more capable it is of doing its job, standing to attention and looking good.
Option 6: Male Enhancement Pills
Speaking of which, the above is pretty much the size of it where male enhancement pills are concerned.  Whether reaching for Viagra, VigRX Plus, or anything of a similar nature, you're basically looking at a slight twist on the same standard methodology.
Male enhancement pills contain carefully balanced blends of natural (and sometimes synthetic) ingredients, which, when consumed in combination with one another, drive masses of blood downstairs. When this huge torrent of oxygen-rich blood hits the penis, it springs into life and does its thing. For a while at least, this can create the illusion of a bigger dick overall.
Unfortunately, the effect with male enhancement pills only lasts as long as the pills stick around in your system.  Which is usually no more than a few hours, after which it's back to business as usual.  There isn't a single pill on the market right now that will make your penis noticeably bigger.
If there was, each and every man on earth would have been taking it for years by now!
Option 7: Shaving
Worth mentioning if purely for tongue-in-cheek value. The art of 'manscaping' is becoming more popular all the time.  The simple fact of the matter is that when done right, shaving or trimming pubic hair can make your dick look bigger.  Depending on your physiology and how unkempt you normally keep yourself, of course. But it can actually make a surprisingly big difference.
Though again, it's more about drawing attention to your penis as it exists in its current form. Rather than actually doing anything for its size and shape.  Take a picture before and after shaving. You'll probably be surprised just how much bigger and more defined it looks.
Just be sure to go about the job as carefully and gently as possible. Cuts, nicks, and grazed skin in this particular area of the body are borderline unbearable.
Option 8: Penis Extenders
Last in our listings comes the only method to have received the backing of male sexual health experts.  According to those in the know, the way to make your dick bigger and longer permanently is to reach for an approved penis extender.
One example of which being the FDA-proved and clinically tested SizeGenetics device. One which, over the course of six months, has been shown to improve penis size by an average of 8% to 30%. SizeGenetics features a unique 'comfort system' and can be adjusted in dozens of ways. Suitable for all penis shapes and sizes, getting the job done gently and comfortably in time.
Just for the record, these aren't the kinds of devices that guarantee miraculous results overnight. Instead, it's a case of science, letting it do its thing over time. Much better than forcing temporary results. The biggest plus point with SizeGenetics being that once you've completed the full course of treatment, the results are permanent.
Conclusion
The long and short of it (pun intended) with penis extension methods is relatively simple. There's no secret shortcut or magic formula that can or will solve the problem. How to get a bigger dick quickly, safely, painlessly and permanently takes time. If you're serious about boosting the size of your penis,  opt for a science-based approach. One that's recommended by male sexual health experts.
In all instances, it's worth consulting with your physician ahead of time, before getting started. Though the only option on this list they'll recommend is the SizeGenetics penis extension device.